Triathlon training is tough on a family. If one parent trains and the other doesn't have an athletic interest than there can be frustration when the time comes to workout. Or, if both parents are triathletes (or another type of endurance athlete like a marathon runner), scheduling becomes even more challenging.
Here are 6 ways to get your training in without sacrificing time with your significant other or your kids:
Get Your Kids To Bike While You Run – If you have children that are old enough you can invite them to bike next to you during a run. They can be the sag wagon when you need to drop your jacket or grab water and they may even help you keep pace if you begin to fatigue! If you have younger children try pushing them in a jog stroller. It may slow your pace but it will make you stronger!
Find Triathlons that Have Kid Events – Many events have a ½ mile, 1-mile, or 5k fun run for the children either the day before or day of the event. Make sure to cheer them on, just like they will be doing for you when you race.
Take Your Kid to Their Activity and Fit a Run in While Waiting – Growing up my friend's dad would take her to Saturday morning swim practice and then go for his run. At some point near the end of swim practice she would look over and see him taking a post-run nap in the bleachers while he waited for her to finish. Another option is to drop off the kids at their activity and then run home. Later your significant other can do their run to the activity and pick up the car with the kids.
Get Everyone Excited about the Race Destination – Your significant other or kids are likely to put up with you missing a few more daily activities if they know there is a trip to watch you race in Mexico, California etc. Also, before you sign up for a race, talk to your family and make sure the date and location will work around everyone's schedule.
Train Early in the Day – If you train early in the day you are less likely to miss a workout because of unexpected events that pop up during the day, like getting the phone call that your spouse has to work late and you are responsible for picking up the kids from school.
Hire a Babysitter – Many parents are willing to get a babysitter to go out for dinner and a movie. What if you swapped dinner and a movie for a Sunday long run and brunch with your spouse during training season?
Ideally, your triathlon training and racing should inspire the rest of your family to stay active. Remember that they will be more likely to support your goals if you keep them involved in your training and perhaps more importantly, support them in their own endeavors.
Good luck!
Krista
—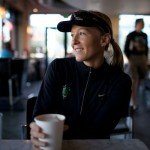 Multiple IRONMAN Triathlon finisher and overall female winner of the Galesburg Half Marathon, Coach Krista Schultz has literally helped thousands of endurance athletes and non-athletes achieve their success through coaching, consulting, clinics, seminars and performance testing. She has written articles for magazines like Triathlete Magazine and Runner's World and is the founder of She Does Tri for Women, which focuses on helping females achieve confidence through health and fitness.