Swimming is the toughest discipline for many triathletes (unless you come from a competitive swimming background).
Learning how to swimming more efficiently (and faster) will leave you feeling less fatigued after the swim and finishing with a faster race time. More efficient and faster swimming requires proper technique and consistent practice.
How to Improve Your Swimming
Find a masters swim program (think adult swim league). Coached swim practices provide structure, require you to show up at the pool at a specific time/day and [hopefully] give you access to a coach who can provide immediate feedback. You can find master swim clubs in the USA at U.S. Masters Swimming.
Hire a swim coach. Even a few swim lessons can boost your technique and confidence. If you are intimidated by masters swim practices and swimming with a group this is a good place to start. In fact, many masters coaches also offer private lessons.
Go to open water swims or races. Getting faster while swimming in a pool will translate to faster open water times, but there is a lot about a triathlon swim that can't be replicated in a pool. Finding open water swims in a lake or ocean near you will allow you to practice not seeing the bottom, swimming continuously without wall breaks, sighting buoys and more. For safety, any open water swimming should be lifeguard supervised.
Show up to the pool with a workout. Instead of swimming continuously and taking long breaks on the wall until you feel rested, show up to the pool with a workout including intervals. Using intervals forces you to continue swimming even when you are tired. They are typically written in one of two different ways:
Example 1. 10 x 50's free with 10 seconds rest. For this set, the swimmer will swim 50 yards (or meters) and then rest at the wall for 10 seconds before pushing off again.
Example 2. 10 x 50's free on 1 minute. For this set, swimmer will swim 50 yards (or meters) ten times in a row. However, instead of taking 10 seconds rest after each interval, they will push off the wall on every minute regardless of when they come in. 1 minute = 50 yard swim + rest.
Put in the time and effort. It is extremely satisfying to see improvements.
Additional Considerations for Long Course Races
Even though in short distance triathlons (Mini, Sprint, Olympic) the swim constitutes a relatively greater percentage of the overall race as compared to long course races (IRONMAN 70.3 and IRONMAN), but you're still spending more time in the water during long course races.
The cut-off for swims is usually 2 hours 20 minutes for IRONMAN and 1 hour 10 minutes for IRONMAN 70.3. If you are close to the time limit, consider that you are racing without fuel for two or more hours in a full IRONMAN or more than 1 hour in a half IRONMAN. Sports nutrition guidelines recommend you eat or drink every 20-30 minutes throughout a longer race. In the water you are not taking in calories, which means a longer swim puts you at a fuel deficit early into a very long day. This is why, regardless of the distance you plan on racing, we strongly encourage our athletes to get in the pool regularly and become a better swimmer.
Be sure to check out School of Tri classroom for swimming for more information about swim technique and swimming in open water and swim drills we suggest.
Good luck!
Krista
—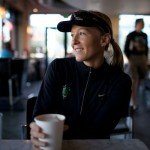 Multiple IRONMAN Triathlon finisher and overall female winner of the Galesburg Half Marathon, Coach Krista Schultz has literally helped thousands of endurance athletes and non-athletes achieve their success through coaching, consulting, clinics, seminars and performance testing. She has written articles for magazines like Triathlete Magazine and Runner's World and is the founder of She Does Tri for Women, which focuses on helping females achieve confidence through health and fitness.