Have you ever gotten overwhelmed by a workout and backed out entirely? What about becoming bored during the middle of a master's swim practice? While one scenario is considerably harder than you are capable of (or willing to attempt) and the other situation is too easy, both workouts have something in common—they do not create a state of flow.
What is Flow?
When a person is fully immersed in an activity, they are said to be in a state of flow. Flow is a term coined by psychology professor Mihaly Csikszentmihalyi.
Csikszentmihalyi in his book Flow: The Psychology of Optimal Experience states:
Contrary to what we usually believe, moments like these, the best moments in our lives, are not the passive, receptive, relaxing times—although such experiences can also be enjoyable, if we have worked hard to attain them. The best moments usually occur when a person's body or mind is stretched to its limits in a voluntary effort to accomplish something difficult and worthwhile. Optimal experience is thus something that we make happen.
A person can obtain a state of flow through working on an engaging work project, putting together a puzzle, reading a book or through sports!
An activity that requires moderate skill and poses a low level of challenge creates boredom. When an activity is really challenging but a person has a low skill level to accomplish the task, the activity ends up causing anxiety. A person who has the right challenge level to match their skill level they end up in a state of flow, which, as Csikszentmihalyi believes, is the optimal experience a person can have.
Why Should You Care About Flow?
When you set goals for this upcoming year, consider what your current ability level in triathlon or running. What skills do you already possess and what will be an appropriate challenge for you? If you haven't even participated in your first triathlon you may not want to set your sights on qualifying for Kona. This is not meant to discourage you. Aiming for Kona is a great long-term goal, but it is also likely to cause you anxiety as you first begin the sport.
What if you have been doing triathlons for a while? Do you have goals beyond completing your races? Even if you don't have any desire to go to Kona, qualify for age-group nationals, etc., you should still look for goals that are on the very edge of your current ability level to match your skill level to the right challenge. For example, a first goal to getting to Kona might be to practice pacing on the bike so that you start the run strong. For more on goal setting, please see our short School of Tri video.
Finding those challenging goals will keep you focused and happy in the sport.
For more mental tips check out our School of Tri Classroom: Mental Training for Triathletes and look for Csikszentmihalyi's new book called Running Flow, which we are excited to start reading too!
Good luck!
Krista
—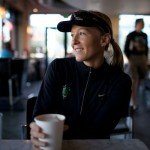 Multiple IRONMAN Triathlon finisher and overall female winner of the Galesburg Half Marathon, Coach Krista Schultz has literally helped thousands of endurance athletes and non-athletes achieve their success through coaching, consulting, clinics, seminars and performance testing. She has written articles for magazines like Triathlete Magazine and Runner's World and is the founder of She Does Tri for Women, which focuses on helping females achieve confidence through health and fitness.