Winter months can be difficult, particularly for those of us who enjoy training outdoors. In many locations the temperatures drop below freezing and unless you are near the equator, the sun goes down early. You may feel like giving in to the conditions and taking an extra long off-season, but we encourage you to develop new habits for winter training instead.
We'll discuss three areas to address when training in the winter: (1) Training in the Dark, (2) Training in Cold Temperatures and (3) Training in the Snow.
Training in the Dark
As you have probably seen advertising, many companies make high-visibility clothing for exercising after dark. In addition to making sure you are seen by others, you need to be able to see what is in front of you. Get a quality headlamp for running so that you still have both hands free. If you are riding or commuting in the dark you should invest in bright lights for both the front and rear. We recommend having a front light with 600+ lumens. Lastly, train with others. In some city environments there are roads you don't want to be caught on alone. Equally dangerous is going out on a trail run at night and meeting an unfriendly nocturnal animal.
It may also be possible for your to switch your daily schedule so that you don't even have to train in the dark. Maybe you did a post-work run during the summer that could be switched to a lunch run instead. If you switch your training schedule make sure to also adjust your nutrition to reflect the workout changes. A lunchtime workout means you need to have a mid-morning snack and immediately refuel after the session.
Training in Cold Temperatures
The most obvious way to prepare a cold day of training is to dress warm. Dress in layers so you don't sweat excessively because when sweat cools against your skin it will make you particularly cold. It is also important to extend your warm up so that your muscles get the blood flow they need to perform. Even then do not expect to be setting records in extremely cold conditions.
Lastly, experiment with your training routes so that you can find a place to stop a mile or two into the training session. In the past we have used a library nearby. If you get to that spot and your hands are numb, go inside to the bathroom and run them under hot water. This should stop the numbness for the rest of the workout and allow you to feel comfortable.
Training in the Snow
If you plan on running in the snow then track your workout based on minutes instead of miles you cover. Running in snow is slower and more challenging so 8 miles in snow may actually be closer to 10 miles on clear pavement in terms of difficulty. Consider investing in a pair of Yaktrax, or similar cleat, for traction in slippery conditions. There may be times where you simply need to move your workout indoors. However, if the trainer or treadmill sound miserable then consider cross-training. Take the day to go cross-country skiing or snowshoeing.
Enjoy your off-season but don't be afraid of cold weather as you begin your pre-season training regimen!
Krista
—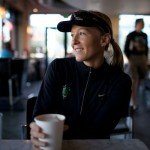 Multiple IRONMAN Triathlon finisher and overall female winner of the Galesburg Half Marathon, Coach Krista Schultz has literally helped thousands of endurance athletes and non-athletes achieve their success through coaching, consulting, clinics, seminars and performance testing. She has written articles for magazines like Triathlete Magazine and Runner's World and is the founder of She Does Tri for Women, which focuses on helping females achieve confidence through health and fitness.