Online Triathlon & Run Training Plans by ENDURANCEWORKS
Achieve Your Best Results With One of Our Training Plans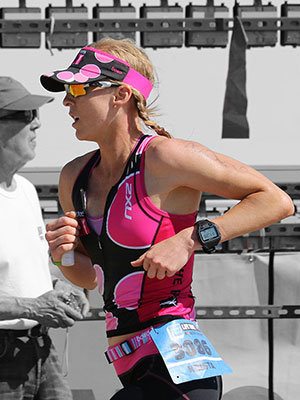 Take the guesswork out of your training and gain the fitness and confidence you need to be successful on race day with one of our online run or triathlon training plans.
Developed and handcrafted by exercise physiologists and coaches, David Glover, MS, CSCS and Krista Schultz, MEd, CSCS, each plan provides a detailed, comprehensive and structured (periodized) training program at a cost-effective price.
Training plans are available for:
What have our other clients said about our plans? Please see their feedback below.

What You Get With Your Training Plan:
Marker Sets
Monthly field tests to benchmark your progress and set training zones.
Peace of Mind
The expertise and confidence you need to be successful on race day.
Accessible & Online Plan
Mobile access and email reminders of workouts.
Online Plan Resources
Guidelines for schedule changes, race week, training nutrition and more.
Answers to Your Questions
We'll respond quickly to any questions you have about your plan.
Video Demonstrations
Including swim drills and strength exercises.
Science and Art
Leverage our extensive experience and education in endurance sports.
Satisfaction Guaranteed
Our 30-day 100% money back guarantee.
Choose Your Type of Training Plan:
We've designed IRONMAN® Distance Triathlon Training Plans for both novice and experienced triathletes competing in IRONMAN® or other full distance triathlons consisting of a 2.4-mile swim / 112-mile bike / 26.2-mile run.
We offer Run Training Plans from 5K to Marathon for both the pure runner and for the triathlete who still needs to maintain swim and bike fitness while training.
We offer Aquabike Training Plans for Olympic (1.5k Swim / 40k Bike), Half (1.2-Mile Swim / 56-Mile Bike and Full (2.4-Mile Swim / 112-Mile Bike) distances.
Clients Who've Used Our Training Plans:
Beyond thankful to YOU for your Ironman COZUMEL Training plan. I followed it to a "T." Well, maybe I swam a little bit more, haha, cuz I'm a mermaid! I have not done a triathlon in six years and this is my first ever Ironman!!!!!!!!! The fact that I got to this Ironman healthy, uninjured, being the most fit ever in my entire life at 51 years old, mentally focused AND then to be able to finish healthy and strong …. most importantly accomplishing my goal of raising over $6,000 for the Alzheimer's Association is beyond a blessing to me and my family. The performance I had and my 2nd place finish was the icing on the cake and in my mind – My Kona! Looking forward to next year training and racing! Thank you again for everything.
I recently completed my first Ironman Texas.
Just a quick background, I have never gone beyond the half iron before this. I used your training plan for 18 weeks leading up to the race and followed it very closely in terms Of time spent in the pool, on the bike, running and strength training. Although I kept it a little more simplified scientifically with heart rate and various speed zones but I was very strict to your times/days within the plan. I completed the IM in 14:25, which is right where I expected/hoped to be.
But more importantly, I felt good at the end and I credit that to my nutrition plan and your training guide.  I just wanted to take a moment to let you know how valuable your plan was for me at 55 years old it was perfect for me. THANK YOU for helping me achieve this lofty goal "on my own" and with the training plan guidance!!!
All of the advice you gave me was hugely helpful with my preparation for my 70.3 which I completed on Sunday. I felt like I cruised the entire race on the way to improving my category rank last year in all three legs. Overall finished about 30 mins quicker than previously and came in at 5:09:28 which I was over the moon about.
Wow, really hard, long race. I guess they don't call it an iron distance for nothing. So…. overall and in hindsight… I felt well prepared for my first full Ironman. I have never swum, biked or run those distances before (aside from running a marathon in '98). I was steady during the swim, my legs were good on the bike and most surprisingly, my legs were good on the run. Thank you so much for helping me to achieve this goal!!!
Hi David, I took 3rd place at 2:42 (AG 55-59). Your plans have put me on the podium. Seriously, I couldn't have done it on my own, I have no clue where to start. Great day in Connecticut!
Wanted to thank you for putting together a well thought out and doable plan  (even with a busy work schedule).  I completed my first 70.3 and felt great doing it well below my target time. I will definitely use you plans for future races of all lengths.  Thanks again!
Hi Krista! I thought I'd send along a quick update for you. I did the Musselman on Sunday in Geneva, NY. Have you ever done it? It's such a fun race. It was CRAZY HOT! Anyway, I had a good time and most importantly learned a TON so the next one will go a bit better. Thanks again for an awesome program!
Just wanted to let you know IM Louisville was on Sunday and I am an Ironman! I could not have done it without you. Your training plan prepared me and still left me time for my full time job and my family. I owe you big time, brother.
Just wanted to say thanks for the training plan.  I finished the Boulder Ironman in 11hrs 41min.  It was so great to just start every week knowing what was on the agenda.  I stuck to almost all the workouts and knew I was prepared when the day came.
This summer, at the age of 40, I finished my first full course Ironman, Ironman Lake Placid. This once inconceivable accomplishment was made possible by the tremendous and dedicated efforts of Coach Glover.
I wanted to let you know, for what it's worth, that your IRONMAN Vineman training plan helped me shave off over 2 hours from my previous IM time. I completed Vineman in good spirits and feeling great about my time of
12:16
, not to mention my body felt much better as well. The 24 week plan did its job and I am happy to have purchased it. I'm a busy investment banker with a toddler so I have to be very efficient with my time, which your plan allowed. The simplicity and accountability was exactly what I needed. I will continue to preach the value in what you've created and hope to get back to racing soon.
Just wanted to drop you a quick note to let you know how I got on at Ironman Arizona. I PR'd my swim by 2 mins and bike by 10 mins, but fell victim to cramps at around mile 15 of the run (first time ever, so I know I messed up my nutrition) – and ended up running a slightly slower marathon (3:36, so not a complete disaster). I finished in 10:24.44 – only 23 secs off a PR, and considering where I was in the summer (not swimming, only starting to run again). I'm pretty satisfied with my race.
I just wanted to take the time to personally thank you. I really enjoyed the training plan – it kept things interesting (especially in the pool!) and definitely improved me as an athlete. But what really impressed me was your responsiveness to my emails/questions. I wasn't sure at first about going with a downloaded training plan approach, but have to say that it exceeded all my expectations.
I finished my first two triathlons 
in 2 months – 
Lifetime Tempe Tri and Arizona Ironman 70.3.
Your training plans brought the structure and rigor I needed to accomplish my goals.  When I started training 8 months ago –  I could barely run 2 miles or ride my bike 6 miles.
The training plan combined with the 1 hour of consulting you provided was very helpful.  I just thought I would give you some feedback on your product and service.
I just wanted to drop a quick note on using your 70.3 Training plan for my first Ironman 70.3 (Galveston, Texas). My goal prior to starting the training was 1) finishing 🙂  and 2) come in under 5:30. I'm very happy to say I've achieved both with a time of 5:16!! Your training plan (and resources on your website) have made a big difference in my training. Especially the run workouts (definitely the bricks!) and strength videos made a big impact. Thank you and I'll be using the plan again for Boulder 70.3, this time with a 5:00 goal.
Just wanted to let you know I followed your plan for the Hawaii 70.3 race in Kona this weekend. My goal time was under 5 hours and my previous best for Hawaii was 5:22. I finished in 5:03 and took 8th in my class (50-55) and qualified for the WC in Australia! My A race is Coeur d'Alene where I plan on qualifying for the Worlds in Kona. Your system really worked for me and I will definitely recommend ENDURANCEWORKS coaching to my clients and friends.
I wanted to say thank you again for the great plan. I was able to follow ~95% of the plan and completed the Ironman 70.3 Vineman race today in a time of 5:52:02. This was my first IM 70.3 race (and 4th triathlon ever) and I don't think that I would have been able to do it without your plan.
My year began with Oceanside 70.3 as an "A" race where I PR'ed by 15 minutes and then ended at IRONMAN Arizona where I PR'ed by 47 minutes! I attribute my continued success to arriving fresh and ready to race as a direct result of the ENDURANCEWORKS training plans for each event. I feel like the plans kept me right where I needed to be and provided an excellent platform for a great race day showing.
You helped me with my first IM last year in CDA. What makes your training plans unique is your timely follow up and insights you provided via email and online resources. I didn't just get workouts; I got an experienced coach to help me through the process. What an experience and achievement I will never forget. Thank you for all the support and advice!
From 12:56 to 11:39!!! Thanks Coach! You program really works! I was just aiming for a 12:30 with a sub-12 (11:56 perhaps) stretch target but this really blew it out of the water. I've never done so well and yet the program isn't as heavy or taxing to my body as my previous ones.
Hello my friend and coach! Yesterday i had my happiest day in my sports life… I completed a 70.3. Thanks to your plans I also finished 5 sprints and 1 international (the fun Luray tri) – most importantly without any injuries. Let's go to the 140.6!!!!
Just a quick follow up thank you. Earlier this year, I purchased a training plan from you for the Busselton Ironman. Your plan & resources were a great help. My Busselton Ironman time was 10:55 this year – last year was 11:31 – so this was a PR. Anyway thanks again for your plan & help!
Ironman Florida was last Saturday. The conditions were harsh, cold and windy. The swim was cancelled. Just in case you are wondering, your schedule got me a second place podium finish. I felt well trained. Thank you!
I just wanted to let you know that I completed Ironman Canada this last Sunday and it was fantastic! The bike hills were brutal and the temperature was 95 degrees but it still went better than I imagined!  Your plan worked to perfection and I wanted to thank you very very much! During training I was never injured or had any major issues and I believe your plan had a lot to do with that. I think I will be taking some time off from training but I'm sure at some point I will pick it back up again.
So again, thank you for providing a super solid training plan that helped me live out my long time dream.
Just finished the Ironman Florida today. I did a little better than plan on the swim at 1:18 and nailed the ride at 20.6mph. Started the run at 8:15 min miles and felt terrific. I ended up in 11th place in my age group.
For my first ever full distance triathlon and second triathlon ever (1st was a 70.3), I am elated! Your training plan was, in a word, spectacular. As you know, I was a little skeptical of the z2 training but learned how great your training plan is. I was ready and physically capable to hit my goals.
Thank you so very much for your help and plan. I really couldn't have done it without you and your team. A thrill of a lifetime to hear "Your are an Ironman!!!
I just wanted to thank you firstly for  the training plan and secondly for always answering my questions so promptly no matter how trivial.
I completed the IRONMAN last Saturday. My fitness/training had been spot on thanks to the plan. I had energy, I wasn't tired and I ran the last 10 km faster than I ever have and finished feeling great.
Anyway mate once again thank you and would recommend this to anyone that asks .
Just finished IM Florida. Thanks for an awesome plan. I couldn't have done it without your help and plan. Worth every penny!!!
I did my first 70.3 on the Sunshine Coast in Qld, Australia on Sunday! I'm so thrilled and thank you for your program and help over the last few months.
THANK YOU! I'm still riding the high of my accomplishment!! I held my hands with tears in my eyes when Mike Reilly told me I was an Ironman. As I told you before and will tell you again, THANK YOU for making the difference in my training.  Not only does your training plan work for me but the nutritional guidance and knowledge you have given me made it possible for me to achieve what I have dreamed of for so long!!
I purchased your Masters 70.3 training plan from Training Peaks and followed the plan to race Ironman Timberman 70.3 last weekend. The plan worked well for me and this was the first time I have raced without a personal coach. I enjoyed the workouts and found the time commitment right for me. I felt well prepared and raced well. The additional articles and videos are very helpful and for me this is a great way to structure my training. Thank you!
Just a quick note of thanks to all if you at ENDURANCEWORKS.  I used one of your plans last year to prepare for my second Ironman Arizona and it was perfect!  Improved my time over 2011 by an hour and four minutes.
When I heard the words from Mike Reilly: 'Greg Wharton – you are an IRONMAN!!' I was pumped up and very happy & proud!!! I want to thank you personally. I love your program and what it delivers – RESULTS. The time was never important to me but finishing in 10.26 in my first Ironman was extremely satisfying. Your training plan and its resources are first class. I recommend your plan and endorse it.
I entered my first Ironman six months out from the event. Initially I was like a ship without a rudder and had no idea where I was going. Then I found a training plan on enduranceworks.com and the path became clear. Each session had a clear purpose and the plan provided a sense of accountability. Throughout my journey, David was very prompt in answering any questions I had via e-mail. He offered a great range of online videos which really helped too. I crossed the finish line of my first IM in just over 11 hours. Thanks for all your help, David!!!
It all worked out [after being sick on race week]. On a tough day with lots of ups and downs, I finished Ironman Boulder. Although, not my greatest time, certainly my proudest finish. The training plan was excellent. Thank you!
Please note: IRONMAN®, IRONMAN Triathlon®, 70.3® and IRONMAN 70.3® are registered trademarks of World Triathlon Corporation (WTC).