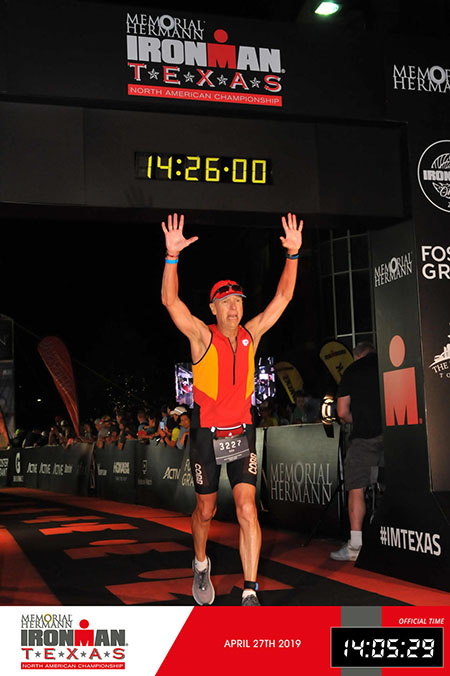 As I get older (I'm almost 50 now), I'm finding that I'm looking more and more for inspiration that getting older is not the end of the world and that I can continue to live a healthy and active life full of adventure and physical challenge.
Triathlete Bob Koenig inspires me.
Bob did his first triathlon in 1992 and his first IRONMAN (Texas) in 2011 in a time of 15:13. This year he competed again in IRONMAN Texas and finished in a time of 14:05…at age 69 (since he turns 70 this year, he competed in the 70-74 age group).
So not only did Bob finish an IRONMAN at age 69, but he also PR'd by more than an hour [1:08] faster than when he was eight years younger. Wow!
How and why did he do that? I was curious so I asked. Here's my interview with Bob. Enjoy!
—
Q: Why do an IRONMAN?
It had been on my bucket list for 25 years that I would do one when I'm 70. That's why being in the 70-74 age group was so important.
Q: What enabled you to drop more than an hour off your finish time (despite being 8 years older)?
I had a great plan from David Glover [David's note: thanks for the call out!] and I did the work. I really appreciated his email support, particularly his thoughts on bike cadence. It is so important to trust the plan and the result was that I felt good coming out of the water, off the bike and I was able to finish the run strong. It worked! I finished third in my age group and got closer to a Kona slot than I ever thought possible.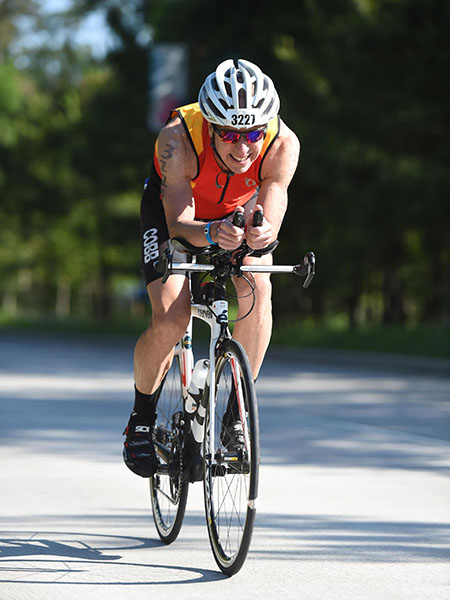 Q: What keeps you motivated to train and gets you out of the bed in the morning?
To do my best and see what kind of numbers I could put up. I wanted to finish well under my time from 8 years ago. It wasn't until several weeks after the race that I realized just how bad I wanted it.
Q: What is one daily practice or habit that you've adopted that's helped you the most?
I was comfortable with my nutrition plan and I practiced it over and over again. This is one area where I wanted to be perfect on race day and I think I was very close.
Q: Do you have any favorite quotes?
"God will not do for me what I can do for myself but He will do for me what only He can do."
"If you're not dead you're not done."
I want to be "green and growing, not ripe and rotting."
Q: What is your greatest strength?
Tenacity.
Q: What is your kryptonite? (As an example, dark chocolate is one of mine)
I tend to go too long, too hard, too soon and I break down. I find this very difficult to change. You would think pain would help?
Q: Any advice for aspiring triathletes, especially older triathletes?
Recovery is so important. My plan had me taking 2 days off each week. That saved my life. I realize now the importance of sleep both during training and after the race plus in every day life. I learn the hard way.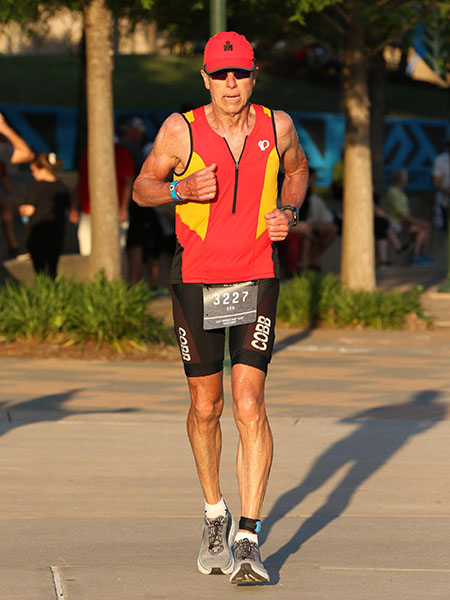 Q: What's your favorite workout?
Long run. Slower pace and it is cleansing. It is great for my body and my soul. I also learn much in the last couple of miles!
Q: What's your least favorite workout that you still do because it makes you faster?
1,000 yard swim test. Great practice in pacing, going hard and reaching down in the last 250. Great confidence builder and it helps me hold form when it gets tough.
Q: What's next for you?
I want to do my best for God and finish this life strong. The Ironman is part of the plan. It helps build the foundation for me to be strong and healthy in the 4 dimensions of my life: physical, spiritual, mental and emotional. I love the sport and want to continue doing triathlons. I want 70.3's to be in the mix.
Thanks, Bob! You inspire. Good luck in all your future endeavors!
David
—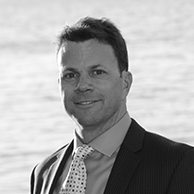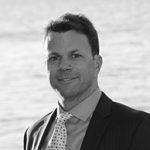 As an athlete, David Glover has completed 28 IRONMAN distance triathlons, which includes two sub 9 hour finishes and winning the Vineman Full Triathlon twice. Now, David's passion now is helping triathlete and other endurance athletes achieve their dreams through his online triathlon education and training company, ENDURANCEWORKS. David has an MS in Exercise Physiology and is certified as a coach by IRONMAN Triathlon, USA Triathlon and USA Cycling plus has his CSCS from NSCA. After six years of living, training and coaching in the triathlon mecca of Boulder, CO, David currently resides in Southern California.