Training Plans for Half and IRONMAN 70.3 Triathlon® Races

Our Plan. Your Courage. Your Commitment. Your SUCCESS!

When you cross the finish line of a half or IRONMAN 70.3® distance triathlon, you've accomplished something very special that most people can only dream about. Congratulations for taking on the challenge!
We want to help you achieve your dream.
IRONMAN Certified Coach David Glover, MSE, MS, CSCS and Krista Schultz, MEd, CSCS crafted these training plans with the primary goal to set you up for YOUR success on race day. David and Krista draw on more than 30 years of experience as elite level endurance athletes, insights from coaching hundreds of triathletes and college degrees in exercise physiology.
We offer training plans for:
Training for another race distance? We also have training plans for Sprint & Olympic and IRONMAN Triathlon® plus Run Training Plans (5k to marathon), too.
What have our other clients said about our plans? Please see their feedback below.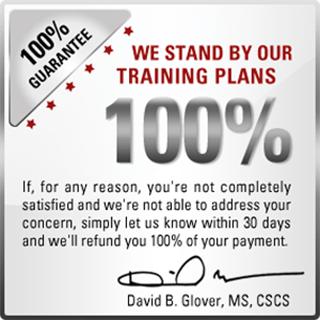 We also have training plans for:
What You Get With Your Triathlon Training Plan:
Marker Sets
Monthly field tests to benchmark your progress and set training zones.
Peace of Mind
The expertise and confidence you need to be successful on race day.
Accessible & Online Plan
Mobile access and email reminders of workouts.
Online Plan Resources
Guidelines for schedule changes, race week, training nutrition and more.
Answers to Your Questions
We'll respond quickly to any questions you have about your plan.
Video Demonstrations
Including swim drills and strength exercises.
Science and Art
Leverage our extensive experience and education in endurance sports.
Satisfaction Guaranteed
Our 30-day 100% money back guarantee.
Follow These Steps to Purchase Your Half Triathlon Training Plan:
STEP 2
Choose your plan and plan duration. Training plan durations are 24, 18, 14 or 10 weeks except for base period and off-season plans which are 8 weeks.
STEP 3
Pay a one-time fee through TrainingPeaks to purchase the plan and receive the plan automatically into your TrainingPeaks account.
STEP 4
Download our Triathlon Training Plan Guide and Strength Training Guide from the start day of your plan then start training!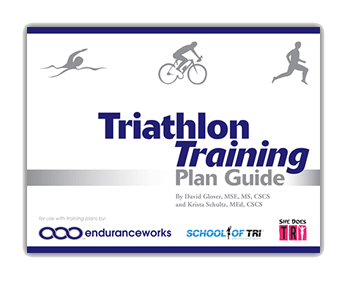 Coach David Glover Talks About the IRONMAN 70.3® Plans:
Please note: IRONMAN®, IRONMAN Triathlon®, 70.3® and IRONMAN 70.3® are registered trademarks of World Triathlon Corporation (WTC).
Clients Who've Used Our Half IRONMAN® Training Plans:
I used your 24 week 70.3 novice plan for my first 70.3 IM St. Polten (Austria) 2018. I had almost zero experience, so I was so happy when I finished it (6:20). I did probably 70-75% workouts and still after the race i wasn't completely exhausted. So the plan was perfect. I was so happy. I am going to use your 140.6 plan for the IM Klagenfurt 2019. I hope I will enjoy it as much as I did with the 70.3 plan. Thank you.
I finished my first two triathlons in 2 months – Lifetime Tempe Tri and Arizona Ironman 70.3. Your training plans brought the structure and rigor I needed to accomplish my goals.  When I started training 8 months ago – I could barely run 2 miles or ride my bike 6 miles. The training plan combined with the 1 hour of consulting you provided was very helpful.  
I wanted to thank you for the training plan that you recommended to me. This past weekend was the Ironman 70.3 Ohio. My goal was to go sub 6 hours as a first time triathlete (fast course/low elevation so I knew it was achievable). I beat my goal and my stretch goal. My finish time was 5:41:59 seconds. Not bad for being my first ever triathlon.
I want to thank you for the recent 70.3 plan I purchased from you. This was my second plan I purchased from you and I have been very happy with the programs. The programs are very doable for a working mom and I finished 20 minutes faster at Santa Rosa 70.3 than I did 2 years ago at Tempe.
Hi David: Wanted to give you some feedback on your 70.3 training plan I used for Eagleman this past weekend. The conditions for this race were some of the most brutal in recent memory with a swim that had a fairly strong current and a run course where temperatures soared to 108 degrees! In the end, I had a very successful race and came in with a time of 4:50. I've used other plans and thought yours gave just the right balance not only to finish but excel and do so without injury during the build-up phase. I also appreciated your feedback during the training. Thanks again!
I purchased David Glover's 70.3 plan for my very first long course triathlon at Ironman Oceanside. Being a 52 year old father and working a full time+ job, I knew I needed the detailed structure to be successful, and David's plan did not disappoint. I was able to swim longer distances without tiring, became strong enough on the bike to negotiate the hilly Camp Pendleton course (I live in flat Miami), and put in a solid half marathon the day of the event. Arriving at the start line in foggy and chilly Oceanside Harbor (did I mention I was from Miami?), I felt the confidence that I was going to have a successful day, and I can now say mission accomplished! Thanks, David for taking me from start to finish!
I wanted to say thank you again for the great plan. I was able to follow ~95% of the plan and completed the Ironman 70.3 Vineman race today in a time of 5:52:02. This was my first IM 70.3 race (and 4th triathlon ever) and I don't think that I would have been able to do it without your plan.
IT WORKED!!! I followed the plan almost to a "T". This was my first half. I figured I would finish around 6:15 to 6:30. In the back of my mind I really wanted to break 6, but did not think it was realistic. Woke up Sunday……and 5:32:19!!!! Slow for many…..but smashed my time. IT WORKED!!!! I will be back!
I used your Masters Half-Ironman training plan to do Ironman 70.3 Raleigh this past Sunday. Not only was it my first Ironman Half, it was my first triathlon. Having not swam in 30 years and never cycled prior till last fall, I've learned a lot and thoroughly enjoyed the whole experience. All I can say is the plan worked out well for me. I arrived at the start line HEALTHY!
I just wanted to drop a quick note on using your 70.3 Training plan for my first Ironman 70.3 (Galveston, Texas). My goal prior to starting the training was 1) finishing 🙂  and 2) come in under 5:30. I'm very happy to say I've achieved both with a time of 5:16!! Your training plan (and resources on your website) have made a big difference in my training. Especially the run workouts (definitely the bricks!) and strength videos made a big impact. Thank you and I'll be using the plan again for Boulder 70.3, this time with a 5:00 goal.
Just wanted to let you know I followed your plan for the Hawaii 70.3 race in Kona this weekend. My goal time was under 5 hours and my previous best for Hawaii was 5:22. I finished in 5:03 and took 8th in my class (50-55) and qualified for the WC in Australia! My A race is Coeur d'Alene where I plan on qualifying for the Worlds in Kona. Your system really worked for me and I will definitely recommend ENDURANCEWORKS coaching to my clients and friends.
I did my first 70.3 on the Sunshine Coast in Qld, Australia on Sunday! I'm so thrilled and thank you for your program and help over the last few months.
Hello my friend and coach! Yesterday, I had my happiest day in my sports life… I completed a 70.3. Thanks to your plans I also finished 5 sprints and 1 international (the fun Luray tri) – most importantly without any injuries. Let's go to the 140.6!!!!
I finished my first ever half-ironman distance triathlon on July 7th! The training plan Krista put together absolutely got me ready – I was really pleased with my performance for the swim and bike, and survived the run despite unexpected and extremely hot temperatures for our region. Krista was also very quick to respond to any questions I had. Thanks for helping me achieve this goal – I'm looking forward to my next half-ironman event on September 8th!
Just a quick note to say thanks for the training plan and the counsel for IM Raleigh. The race this past Sunday was incredible! I dropped 51 min off of last year's time! The swim was about 8 min faster, the bike was about 20 min faster and the real surprise was the run. Because my legs were so much better conditioned that when I got to the run, I was able to run at a pretty decent pace! Overall, I had a great experience and you played a big part in that. Thanks for helping to make that possible!
I had an ambitious Sub-5HR goal for Ironman 70.3 Boulder, which would be more than a 25 min PR at high altitude over my Ironman 70.3 Lake Stevens result, and I am thrilled to report that my final time was 4:59:59! You have my sincere gratitude for your helpful feedback, guidance and of course your stellar training plan that was instrumental for me to reach my goal!
A couple of weeks ago I finished my first Half Ironman, Ironman 70.3 Timberman. I'm just writing a quick note to THANK YOU!! All I have to say is that your plan worked!! Don't get me wrong, it was hard at times but I stuck with it…I trusted the plan. I finished strong, felt good, and I'm ready to do my first full Ironman next year in Lake Placid….YES…I will buy your IMLP training plan because I KNOW that it will get me through the race and across the finish line feeling strong and with a smile.
I made it! I finished and am quite pleased. Felt very good afterwards as well. Thanks for your training program and for the email support. I felt physically ready for this distance. Just had to work on pre-race stress since this was my first 70.3. I saw so many expensive tri bikes and guys wearing Ironman jerseys in addition to cold temps to start, that I had to focus on staying with my game plan and it worked! Thanks again, David!
All of the advice you gave me was hugely helpful with my preparation for my 70.3 which I completed on Sunday. I felt like I cruised the entire race on the way to improving my category rank last year in all three legs. Overall finished about 30 mins quicker than previously and came in at 5:09:28 which I was over the moon about.
Last weekend, I completed the 70.3 miles for a Half IM in Napa (HITS endurance series) after following your 24-week Half IM training program. My overall time was a little longer than where I was at for my pre-race testing, but race conditions were less than ideal (low 50s and rain for 3 hours during the bike ride). Regardless of the conditions, it was a great race in a beautiful area and, thanks to your protocol, my fitness was solid so I felt strong and prepared! This was my first HIM and I'm really pleased at how everything went. I enjoyed all the training and the race was a big payoff for my hard work and commitment to your plan.
I purchased your Masters 70.3 training plan from Training Peaks and followed the plan to race Ironman Timberman 70.3 last weekend. The plan worked well for me and this was the first time I have raced without a personal coach. I enjoyed the workouts and found the time commitment right for me. I felt well prepared and raced well. The additional articles and videos are very helpful and for me this is a great way to structure my training. Thank you!
Thanks Krista for a great race!  I followed the workouts (oops, missed two), the suggestions for different running shoes, the nutrition advice and as a result I took off over an hour of time on my last (first as well) 70.3!!  Your plan worked so well I did not even feel the slightest bit of fatigue until after mile ten of the run!  I wasn't sure what to expect and did not put a "time limit" on my race, however I did think I would fall in between the 6-7 hour mark.  I ended with a 5:47, but more importantly than time, I felt really strong and good the entire way.  Thanks again!!
Thank you so much for such an awesome training plan and taper that obviously had me well prepared for this race. Because of this, I truly enjoyed the race. No, I didn't go all out during the race, but I felt strong and solid, and was racing for longer than I ever have. Again, I think it was because your training schedule had me in good shape.
I raced the Kinetic 1/2 at Lake Anna yesterday and had a great race.  Total time was 5:22:28. Swim was 36, bike was 2:48 and run was 1:50, 7 minutes of transition time (could've trimmed a few minutes there I'm sure). I just ran a good conservative race, didn't try to blow anything out and was general successful in testing my fitness and nutrition plan. Thanks again for your training plan and advice the past couple months!
Krista provided me the tools I needed to successfully complete my first 1/2 distance triathlon race. I used Krista's 1/2 Distance Training plan as well as worked with her to develop a nutrition plan. Krista helped me understand why nutrition was so important and helped me develop a better understanding for what my body needs during training and training. I would recommend any training plan by ENDURANCEWORKS.
Hi David, WOW, that was awesome! There was no way I could have done this without your help, appreciate it! It was an awesome day, great people, good times, can't wait to do it again!!!
Wanted to thank you for putting together a well thought out and doable plan  (even with a busy work schedule).  I completed my first 70.3 and felt great doing it well below my target time. I will definitely use you plans for future races of all lengths.  Thanks again!